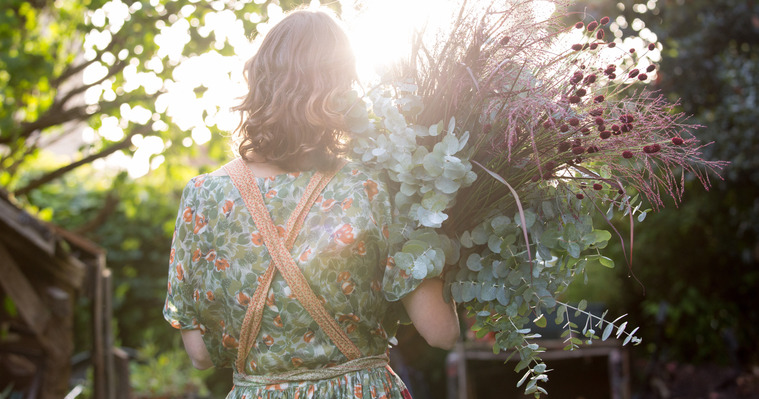 Twiggy Thistle create beautifully natural floral arrangements and bouquets in Reading, and the surrounding Berkshire and Oxfordshire area.

Our work is all about cherishing nature and sharing beauty.
We love using local and seasonal flowers and use sustainable methods to create all our floral design work.
"Booking Twiggy Thistle was one of the best decisions we made."

Meet Twiggy
Florist Chantal leads the team at Twiggy Thistle, with over 15 years experience in the industry and a background in retail, design, and styling.
"I love nature and the simple things in life: golden hour, hilltop views and woodland walks"
Style
The Twiggy style is wild and loose, with lots of texture and interesting foliage.
Inspired by delicate whispy fronds, soft, subtle shades, and excited by big blousey blooms, velvety petals and deep rich, and earthy hues.

Sustainability
A deep love and appreciation of nature is at the heart of what we do, and naturally guides our approach to floristry.
We use British flowers and try to buy all our materials with low mileage . We minimise waste, water and environmental impact. You won't find us using any nasty floral foam or single use plastic. In our working practices we aim to reduce, reuse, and recycle. We are by no means perfect, but we embrace the fact that running a sustainable business is an ongoing process of learning, adapting and implementing change.
We Love:
Working seasonally with British flowers, that are preferably organic and as local as possible.

Making arrangements using eco friendly techniques, and natural materials.
Using garden grown herbs, flowering and foliage plants, and cuttings donated by local people, gardeners and businesses.
We Live:
A low impact, low mileage life.
Mindfully and with intention, and try to make ethical choices about how and what we consume.
Work, shop and get involved locally. We love supporting and collaborating with indie businesses, community groups and charities, giving time and sharing skills.
We Loathe:
Floral foam, single use plastic and artificial, chemically coloured or bleached flowers.
Weed killer, pesticides, mono crops, overily tidy gardens, artificial grass and leaf blowers!
Basically anything that's harmful to the environment, wildlife and our precious pollinators.